Sales Jobs is not supported in your location
We are expanding our reach! Check back with us to find out when we launch in new regions.
Never miss a lead with
Job Alerts
We make sure the latest, most relevant sales jobs are sent straight to your inbox with Job Alerts, so you don't miss out on the perfect opportunity. Job Alerts are instant, and you can apply to the roles we send you on-the-go, with just one click.
Login to view your Job Alert preferences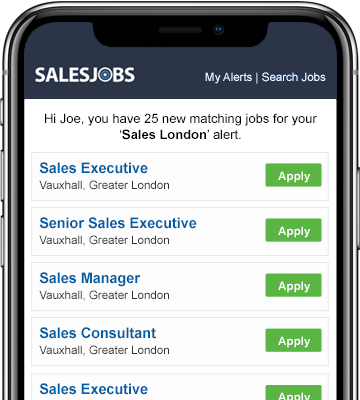 What do Job Alerts do?
They notify you when a suitable job is uploaded
All we need to know is your preferred sales job title/keywords and your location - our SmartMatch technology does the rest! Receive well-suited jobs in your inbox as soon as they're submitted.
They link straight through to the job posting
We don't want you to miss out on what could be the perfect role. Job Alerts summarises the role and links through to the recruiter's full job post, so you can read all about the vacancy quickly and easily.
They allow you to apply on-the-go!
If you've uploaded your CV and a cover letter to your Sales Jobs account, you'll be able to apply to jobs you receive at any time, regardless of where you are! Apply with 1-Click from your mobile, tablet or desktop.